REINSTATEMENT OF THE POPPET HEAD ABOVE THE PUMP AND LEVEL SHAFT
Obtain a piece of Thames History

The Bella Street poppet head was dismantled after 1914

We now have consent from both Heritage New Zealand Pouhere Taonga and Thames Coromandel District Council to re-instate the poppet head. It will be over 20 metres in height!!!
This project requires us to raise in excess of $90.000 to allow us to make applications for further funding from places like the Lotteries Commission.

Quite the project to commemorate the 150th anniversary of the Thames goldfields.
Help us to rebuild this Poppet Head on its original site at the Bella Street Pump House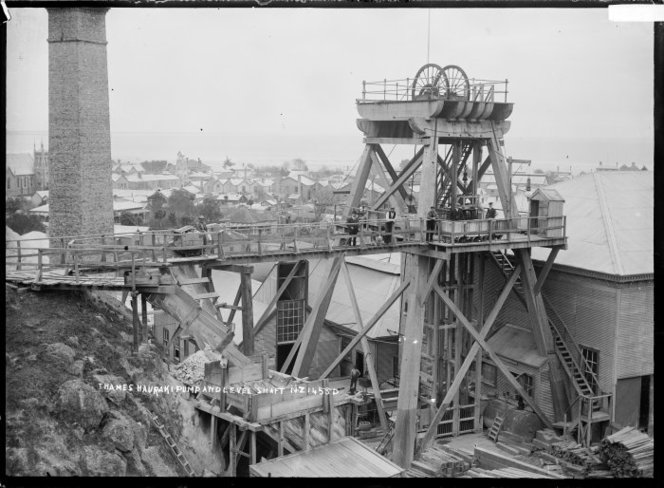 Source: Thames-Hauraki pump and level shaft. Price, William Archer, 1866-1948 :Collection of post card negatives. Ref: 1/2-001558-G. Alexander Turnbull Library, Wellington, New Zealand. /records/22576601
Donate now!
Donations of $1,000 or more will get your name on one of the poppet legs.
MAKE YOUR CONTRIBUTION NOW
At the Pumphouse
212 Bella Street
Saturday & Sunday 10am to 3pm


At Jared Fisher Automotive
212 Bella St
Monday to Friday 9am to 5pm


Online by Direct Credit to the Bella Street Building Fund
Kiwi Bank: 38-9014-0608616-02
Use your name as the bank reference.
The Trust is a registered charity. All donations are tax deductible.
Email info@bellastreetpumphouse.com with your name and contact details so that we can send you a receipt for your donation and in the case of a donation greater that $1000 to ensure your details are correct for a plaque placed on the poppet leg.